Corporate Social Responsibility Under Company Act 2013 : Social Responsibility For Different Interest Group
CORPORATE SOCIAL RESPONSIBILITY UNDER COMPANY ACT 2013
According to concept of Social Responsibility of business the objective of managers for taking decision related to business is not only to
maximize profit or shareholder value but also to serve and protect the interest of other members of its society like consumer, worker and community as a whole. CORPORATE SOCIAL RESPONSIBILITY (CSR) is a self-regulating business model that helps a company be socially accountable—to itself, its stakeholders, and the public. By practicing corporate social responsibility, also called corporate citizenship, companies can be conscious of the kind of impact they are having on all aspects of society, including economic, social, and environmental. Corporate social responsibility is a gesture of showing the company's concern & commitment towards society's sustainability & development. CSR is the ethical behaviour of a company towards society.
SOCIAL RESPONSIBILITY FOR DIFFERENT INTEREST GROUP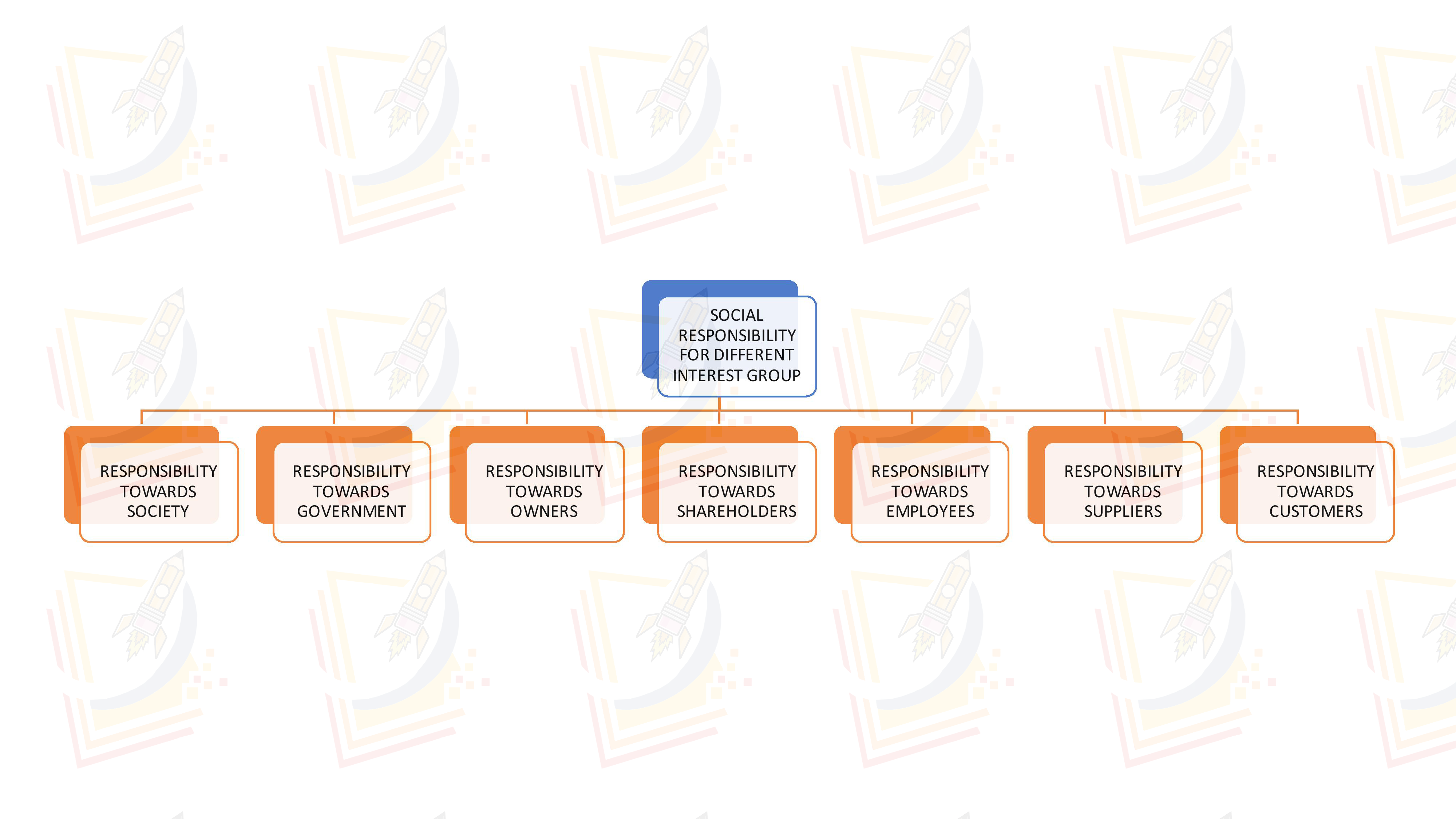 RESPONSIBILITY TOWARDS SOCIETY
Business need to work in society, some importance of social responsibility is also define from society point of view. The business provide good product, try to maintain clean environment, provide opportunity to participate to business as well as work for the overall development of society, these are the some example of it.
RESPONSIBILITY TOWARDS GOVERNMENT
When business pay regular taxes, follow the norms of government then it is consider as social responsibility of business which is duly fulfill by it.
RESPONSIBILITY TOWARDS OWNERS
Owners are the persons who own the business. They contribute capital and bear the business risks. The primary responsibilities of business towards its owners are to
Run the business efficiently.
Proper utilization of capital and other resources.
Growth and appreciation of capital
Regular and fair return on capital invested.
RESPONSIBILITY TOWARDS SHAREHOLDERS
Investors are those who provide finance by way of investment in debentures, bonds, deposits etc. Banks, financial institutions, and investing public are all included in this category. The responsibilities of business towards its investors are: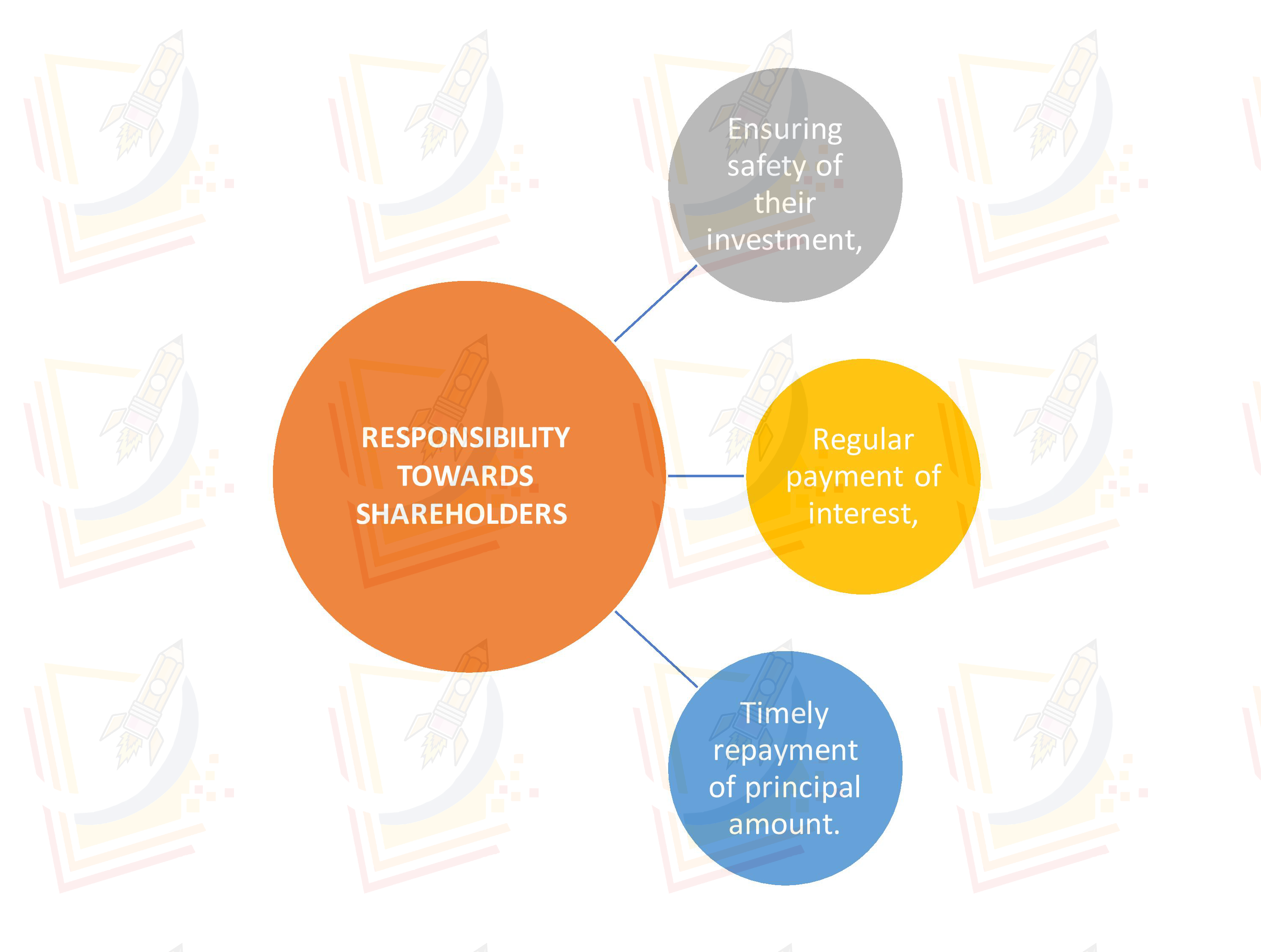 Ensuring safety of their investment,
Regular payment of interest,
Timely repayment of principal amount.
RESPONSIBILITY TOWARDS EMPLOYEES
Business needs employees or workers to work for it. These employees put their best effort for the benefit of the business. So, it is the prime responsibility of every business to take care of the interest of their employees. If the employees are satisfied and efficient, then the only business can be successful. The responsibilities of business towards its employees include :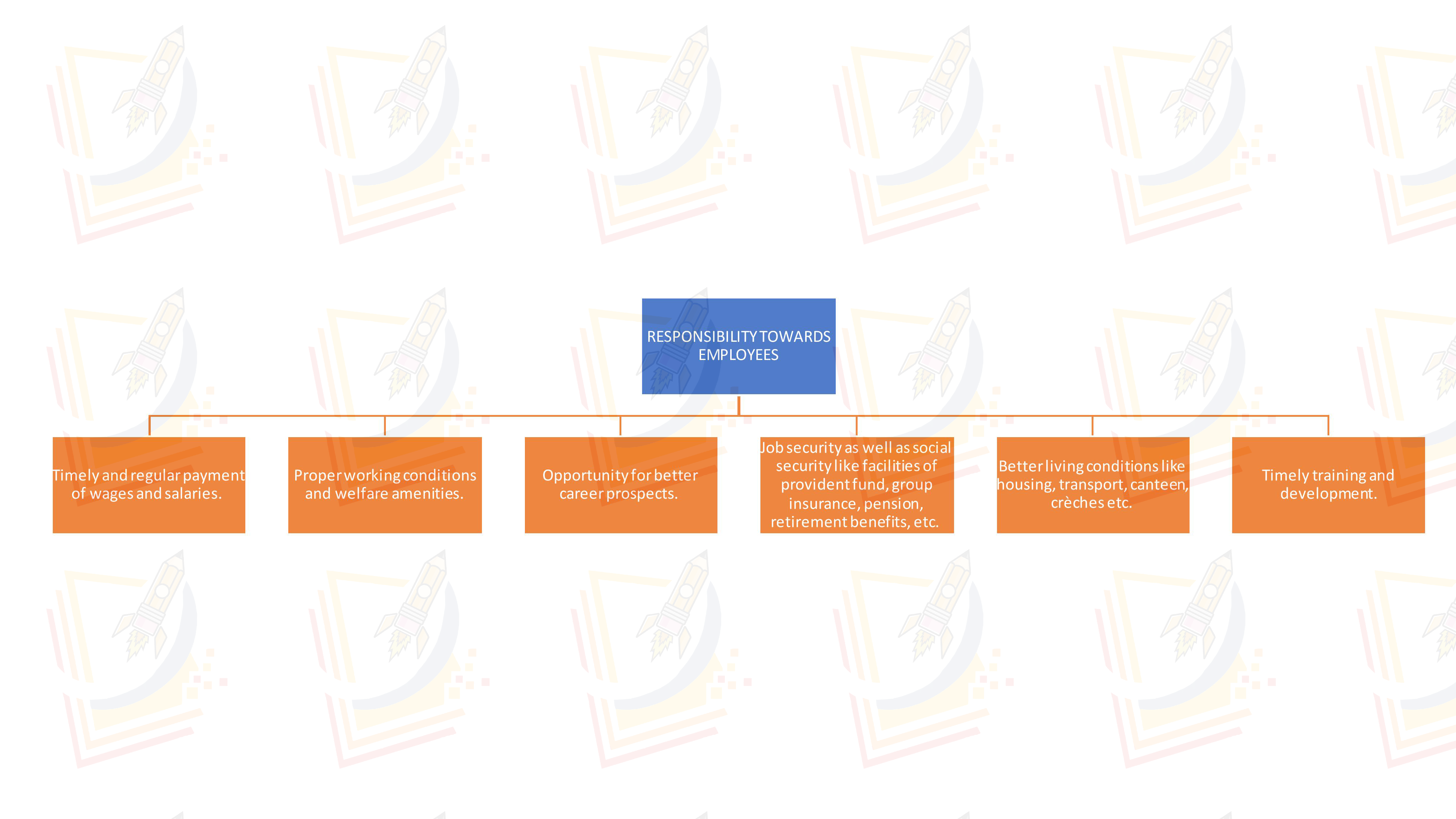 Timely and regular payment of wages and salaries.
Proper working conditions and welfare amenities.
Opportunity for better career prospects.
Job security as well as social security like facilities of provident fund, group insurance, pension, retirement benefits, etc.
Better living conditions like housing, transport, canteen, crèches etc.
Timely training and development.
RESPONSIBILITY TOWARDS SUPPLIERS
Suppliers are businessmen who supply raw materials and other items required by manufacturers and traders. Certain suppliers, called distributors, supply finished products to the consumers. The responsibilities of business towards these suppliers are: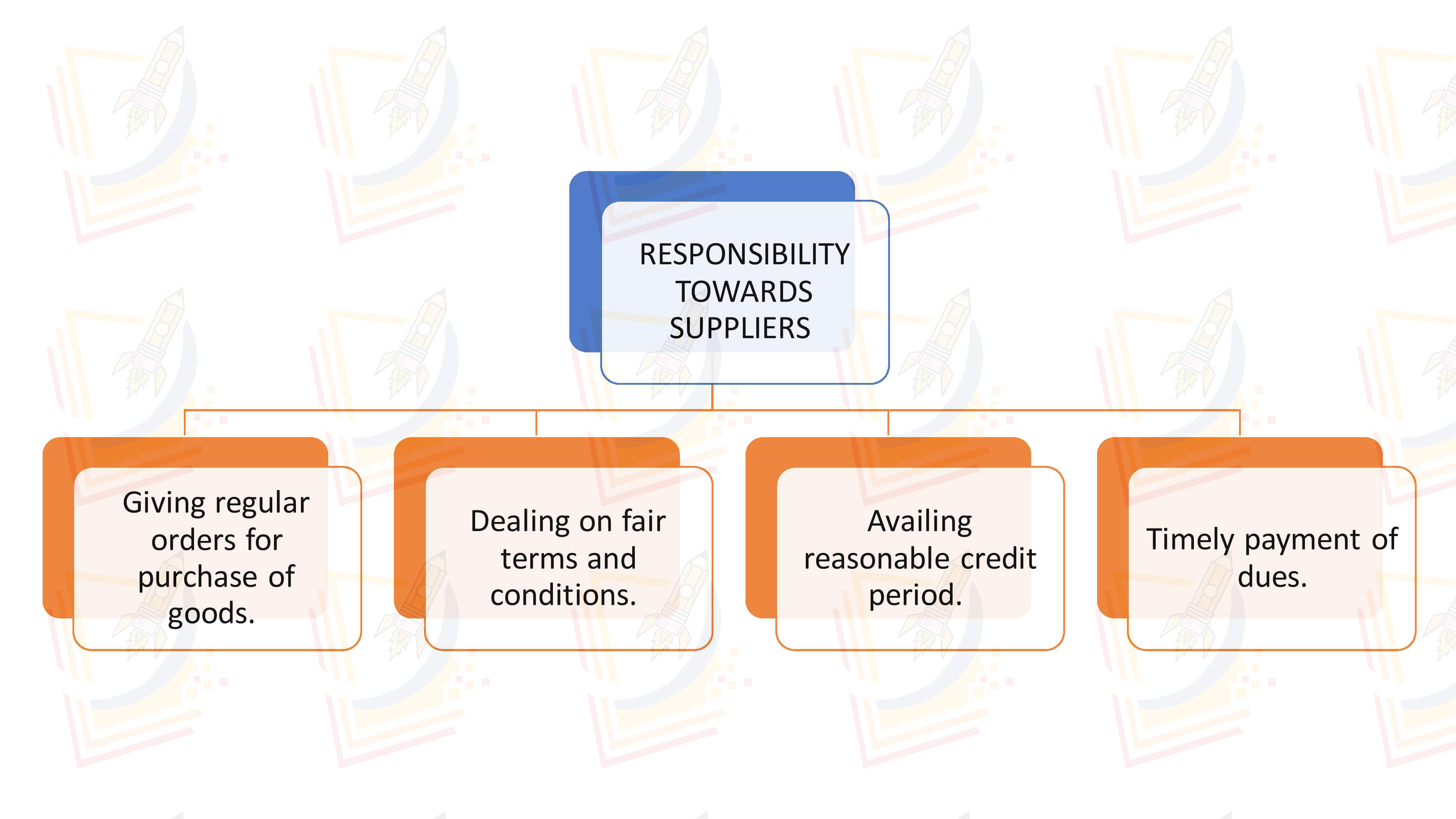 Giving regular orders for purchase of goods.
Dealing on fair terms and conditions.
Availing reasonable credit period.
Timely payment of dues.
RESPONSIBILITY TOWARDS CUSTOMERS
No business can survive without the support of customers. As a part of the responsibility of business towards them the business should provide the following facilities: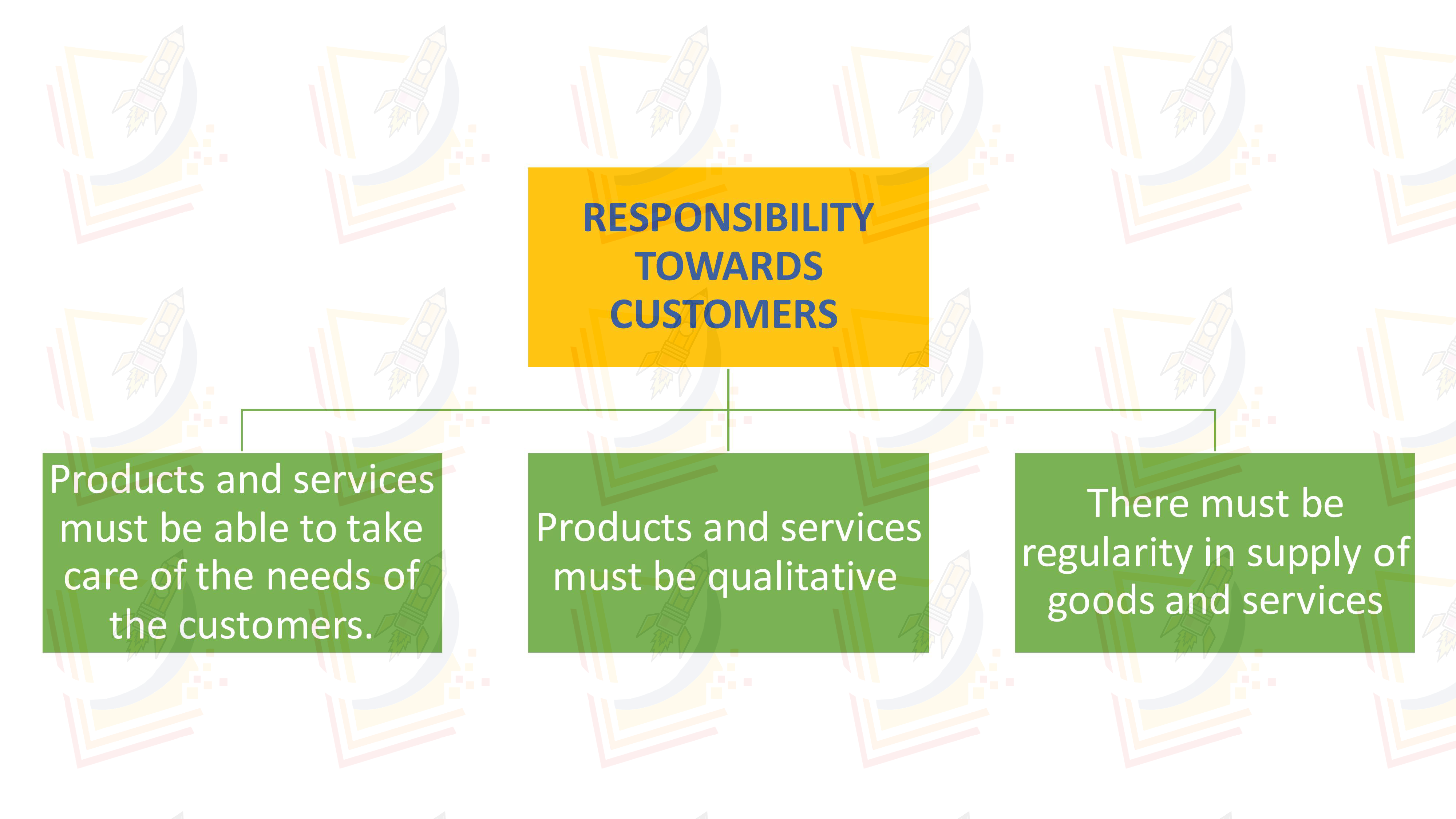 Products and services must be able to take care of the needs of the customers.
Products and services must be qualitative.
There must be regularity in supply of goods and services.
After learning about Social Responsibility of the business in this chapter, one can understand the significance of Social Responsibility. The next chapter is about Business Environment and Protection which deals with the organization taking steps to protect both internal and external environment for their sustained growth and development.
BOOK REFRENCE ( CLICK TO BUY )