Indian Economy on the Eve of Independence : Features and Characteristics of Indian Economy since Independence
INTRODUCTION
After 200 years of British rule, India got Independence on 15 August, 1947. Before Independence 95% of the economy was based on agriculture. The bulk of Indian population was poor and was not able to get two square meal a day.
The Britishers ruled India with two main objectives.
To fetch raw material from India for growth of British industries.

To sell British made finish products.
FEATURES AND CHARACTERISTICS OF INDIAN ECONOMY SINCE INDEPENDENCE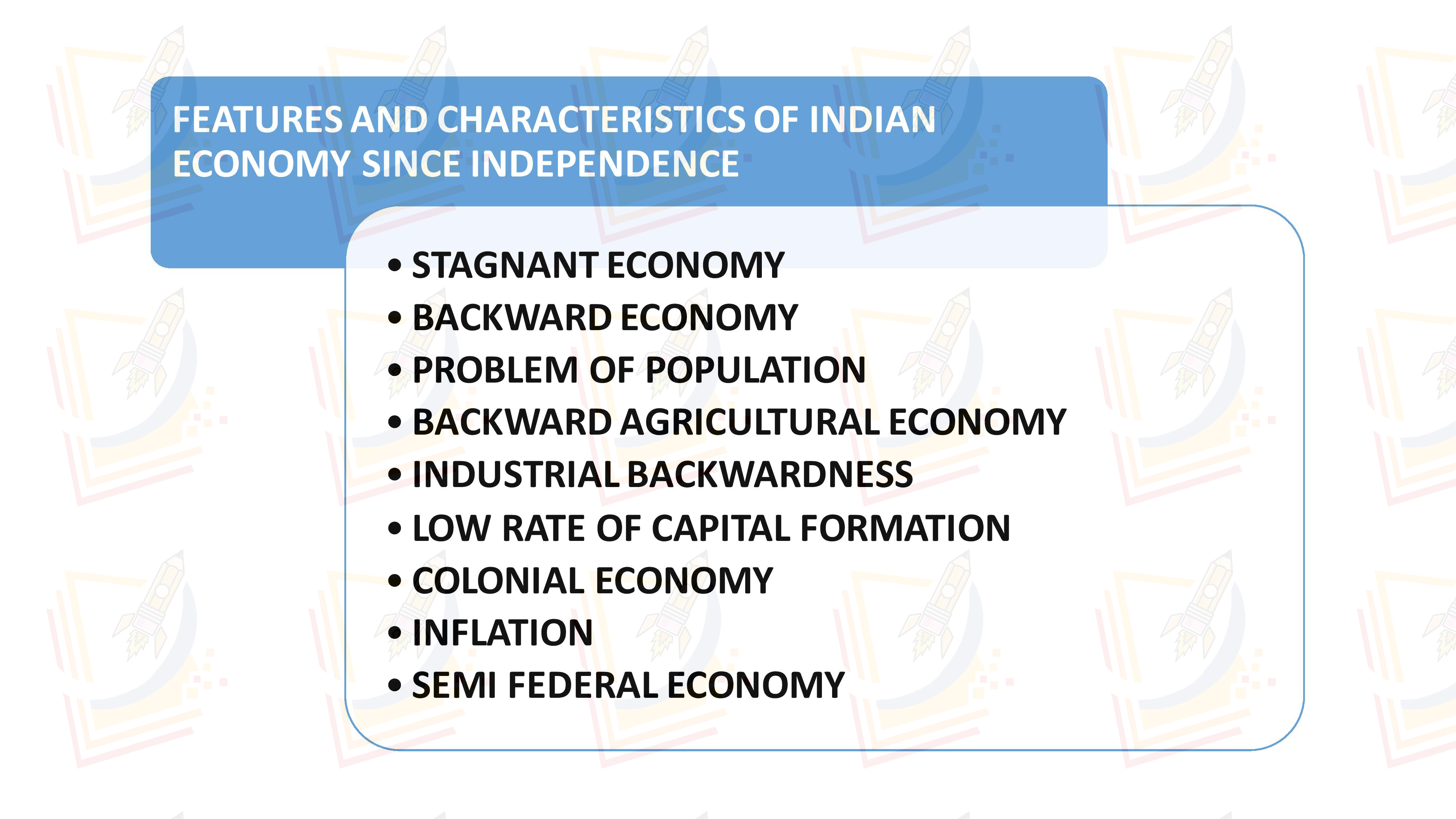 Indian economy was completely a stagnant economy. A Stagnant economy is one which hardly shows any increase in per capita income over a time and wherein per capita income continues to be low.
EXAMPLE :-

Indian economy was a backward economy, on the eve of independence. Backward economy is the one in which per capita income is per low.
EXAMPLE: - 1947-1948 Rs 230/- per capita income.
In 1950-51 population of India was nearly 36 crore, including 83% was illiterate. Birth rate was 40 per thousand and death was 27 per thousand. Thus the survival rate was nearly 13 thousand. India's population occupied second place in the world.
BACKWARD AGRICULTURAL ECONOMY :-
Prior to independence, Indian economy was a backward agricultural economy. Nearly 72 per cent of the country's working population was engaged in agriculture.
EXAMPLE :-

INDUSTRIAL BACKWARDNESS :-
Industrially also, the Indian economy was completely backward economy. There was a virtual lack of basic and heavy industries in the country. Of the heavy industries, Tata iron and steel was almost solitary.
EXAMPLE : - In 1947 total production of steel was merely 9 lakh tones.
LOW RATE OF CAPITAL FORMATION

:-
Rate of capital formation was very low. It was just 6.8 per cent of the net domestic product. Rate of saving was hardly 7 per cent.
Colonial economy refer to the system of production and consumption which were introduced in the colonies by the colonialist in order to fulfill their economic demands such as raw materials, markets, area for investment and areas for settlement.
Inflationary trends was clearly reflected at the time of independence. Wholesale price index which was 125 in 1939-40 rose to 308 in 1947-48. In fact price level had started rising towards the end of Second World War.
At the time of independence, there were two aspects of the Indian economy. The Britishers introduced a new type of land tenure system in India which gave birth to two classes- Zamindars or landlords and landless tenants or cultivators.