Industry : Industrial Policy Since 1956 With Special Emphasis
INDUSTRIAL POLICY RESOLUTION, 1948
It declared the Indian economy as Mixed Economy Small scale and cottage industries were given the importance
The government restricted foreign investments Industries were divided into 4 categories :-
Exclusive monopoly of central government (arms and ammunitions, production of atomic energy and management of railways)

New undertaking undertaken only by state ( coal, iron and steel, aircraft manufacturing, ship building, telegraph, telephone etc.)

Industries to be regulated by the government (Industries of basic importance)

Open to private enterprise, individuals and cooperatives (remaining)
INDUSTRIAL POLICY RESOLUTION, 1956 (IPR 1956)
This policy laid down the basic framework of Industrial Policy

This policy is also known as the Economic Constitution of India
IT IS CLASSIFIED INTO THREE SECTORS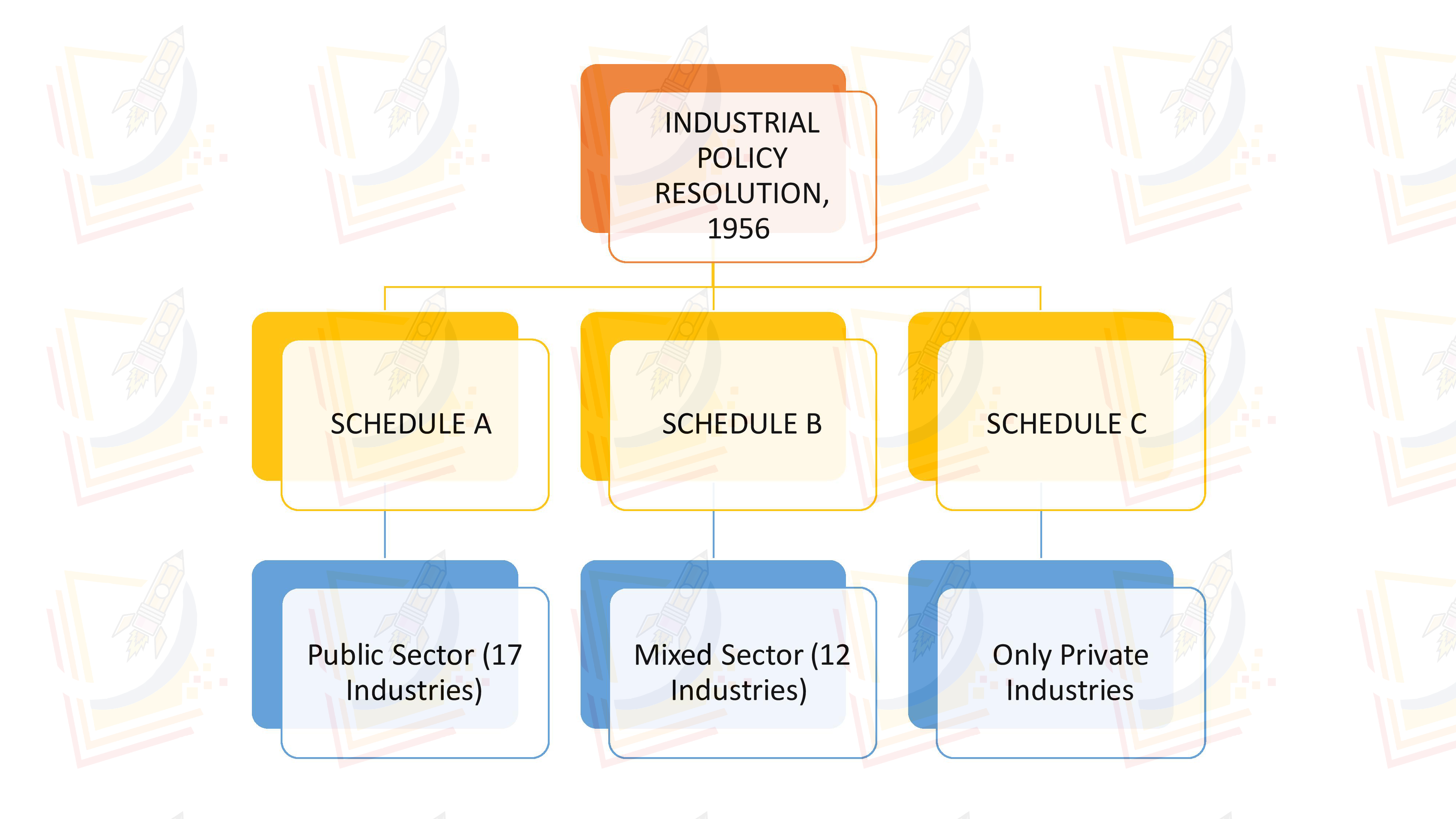 SCHEDULE A – which covers Public Sector (17 Industries)

SCHEDULE B – covering Mixed Sector (i.e. Public & Private) (12 Industries)

SCHEDULE C – only Private Industries This has provisions for Public Sector, Small Scale Industry , Foreign Investment. To meet new challenges, from time to time, it was modified through statements in 1973, 1977, and 1980.
INDUSTRIAL POLICY STATEMENT, 1977
This policy was an extension of the 1956 policy.

The main was employment to the poor and reduction in the concentration of wealth.

This policy majorly focused on Decentralisation

It gave priority to small scale Industries

It created a new unit called "Tiny Unit"
NEW INDUSTRIAL POLICY 1991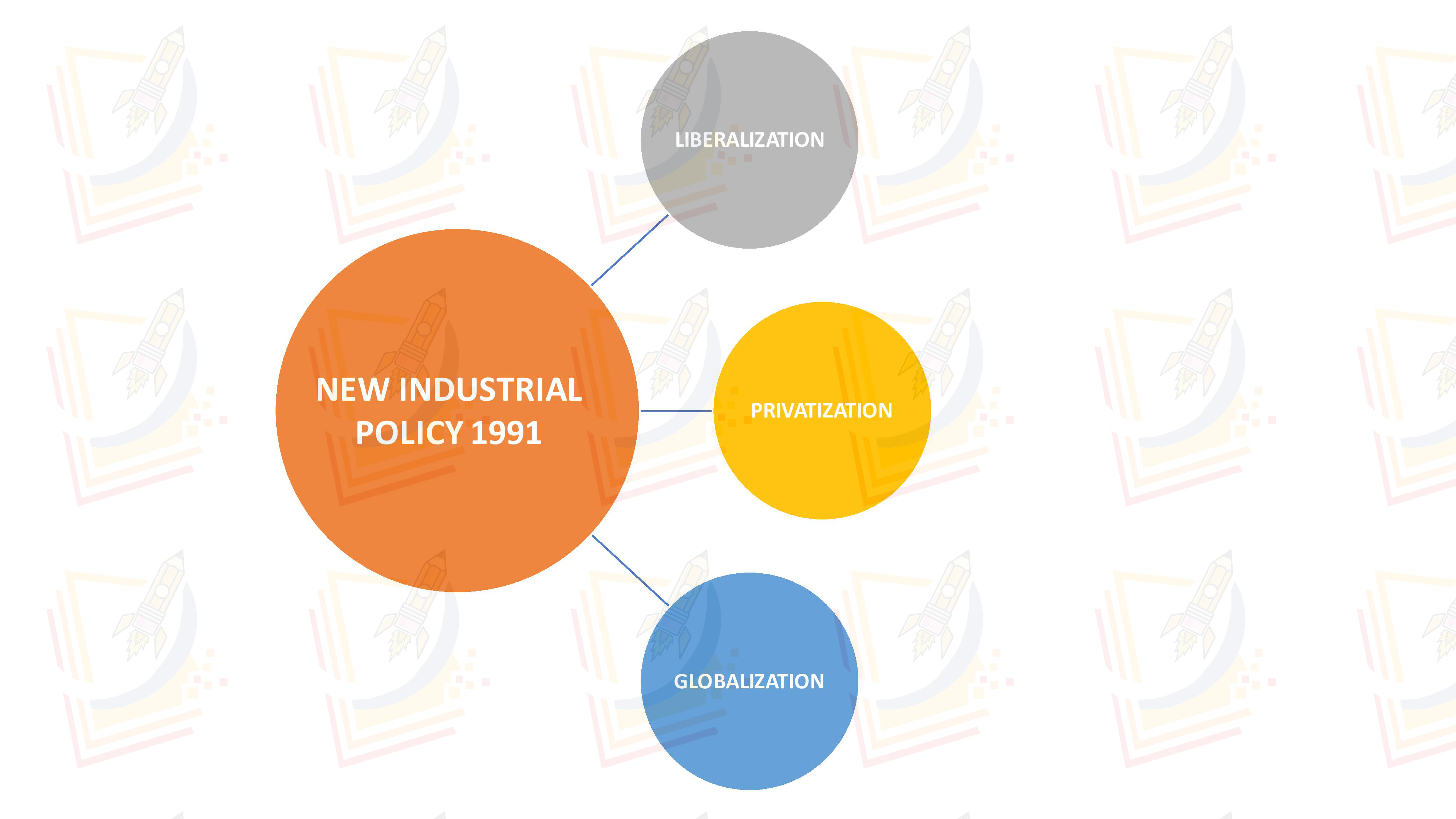 L – Liberalization ( Reduction of government control )

P – Privatization ( Increasing the role & scope of the private sector )

G – Globalization ( Integration of the Indian economy with the world economy )
LIBERALIZATION
It means to reduce unnecessary restrictions and controls on business units imposed by government. It means to produce simply procedure.
MEASURES TAKEN FOR LIBERALIZATION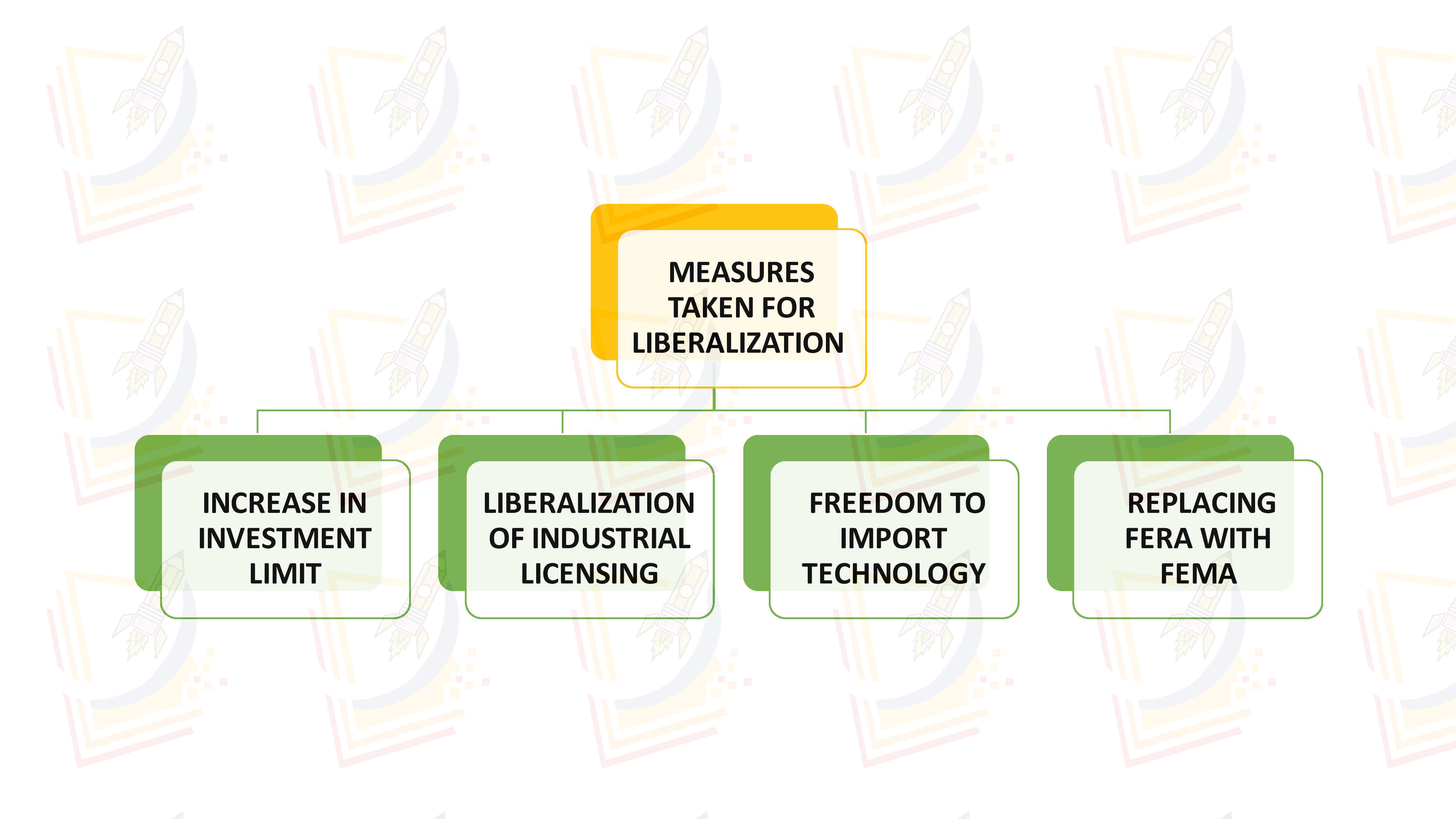 INCREASE IN INVESTMENT LIMIT :- Investment limit of small industries has been raised to 5 crore so as to enable them to introduce modernization.

LIBERALIZATION OF INDUSTRIAL LICENSING :- main features of industrial policy is to adopt the policy of liberalization in place of controlled economy. Till now, private sector of the economy was functioning under rigid licensing system.

FREEDOM TO IMPORT TECHNOLOGY :- under new economic reforms, to promote technological dynamism and modernization themselves.
REPLACING FERA WITH FEMA : - Earlier for regulating foreign exchangetransactions. The government had replaced the FERA with fema.
PRIVATIZATION
Privatization occurs when a government-owned business, operation, or property becomes owned by a private, non-government party. Privatization may also describe a transition that takes a company from being publicly traded to becoming privately held. This is referred to as CORPORATE PRIVATIZATION.
MEASURES ADOPTED FOR PRIVATIZATION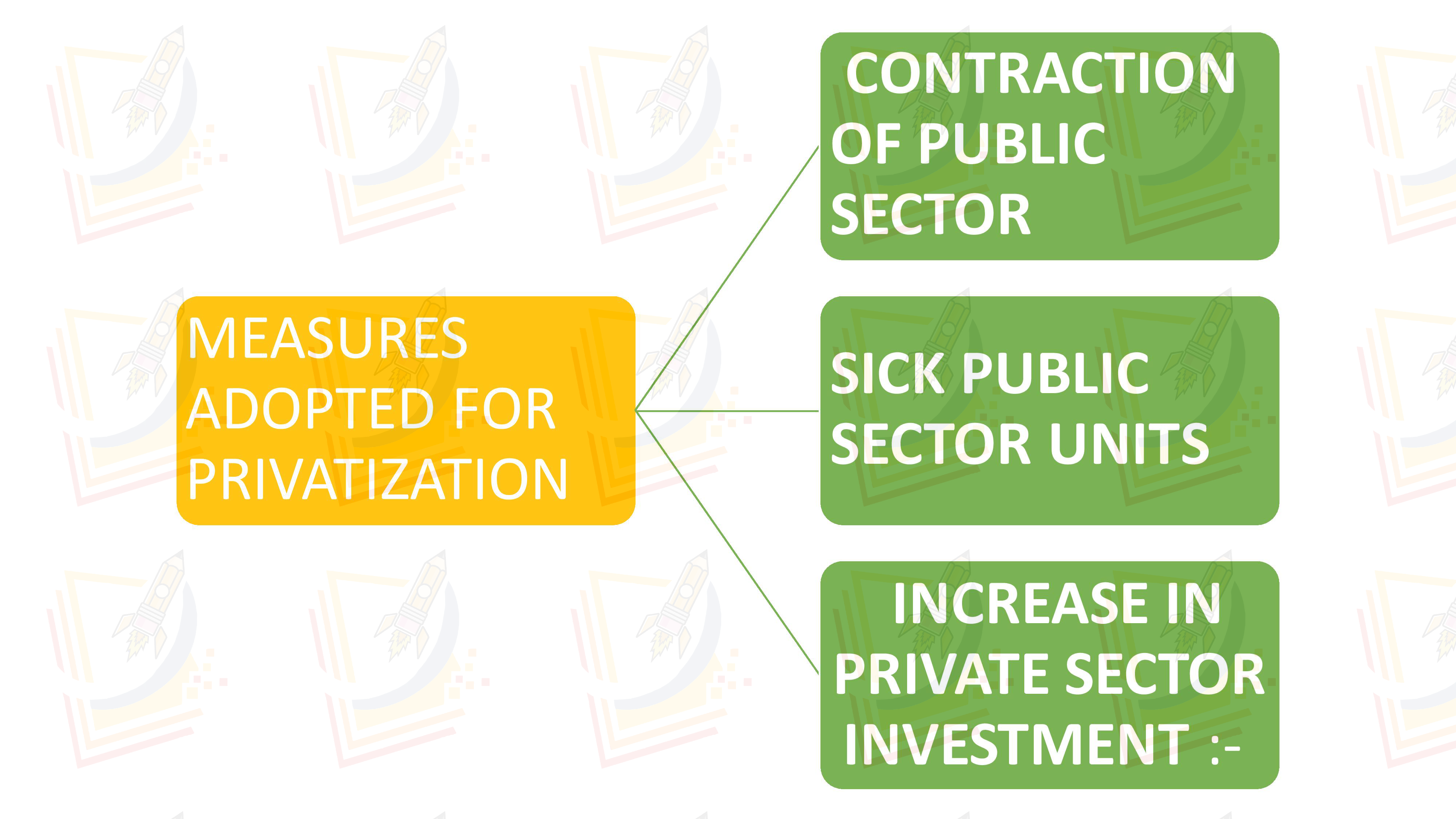 CONTRACTION OF PUBLIC SECTOR : - Number of industries reserved for the public sector has been reduced to 17 to 2 only. The two industries are atomic energy and railway industry.

SICK PUBLIC SECTOR UNITS: - public sector unit are treated in the same way as sick public sector. In this respect, Sick industries companies' act 1985 has been amended in December 1991.
INCREASE IN PRIVATE SECTOR INVESTMENT :- Government has increased share of private sector in total investment of plans. Share of private sector investment has been increased from 42 per cent in fifth five year plan.
GLOBALIZATION
Globalization, or globalization, is the process of interaction and integration among people, companies, and governments worldwide.
MEASURES ADOPTED FOR GLOBALIZATION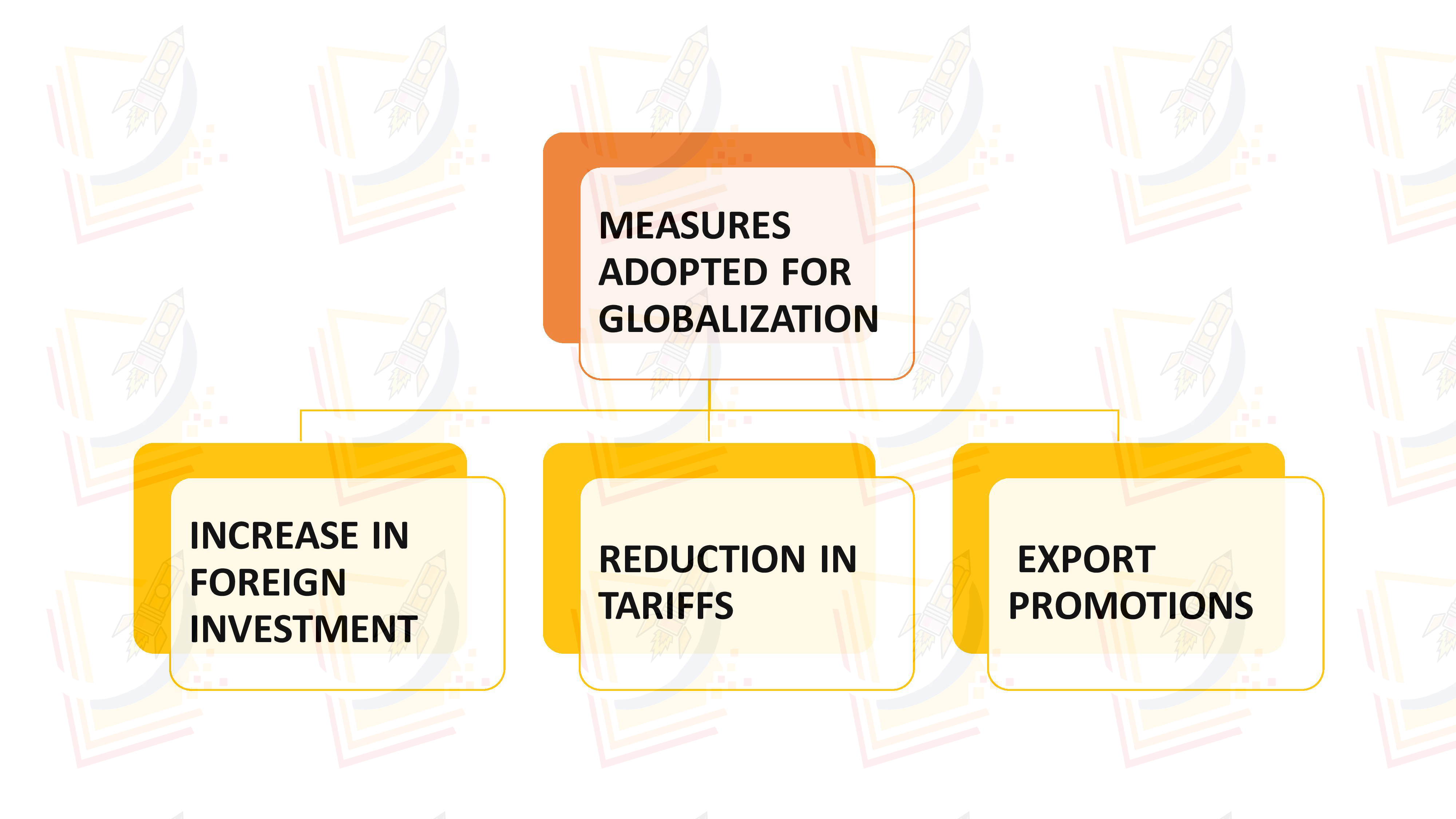 INCREASE IN FOREIGN INVESTMENT :- under economic reforms, limit of foreign capital investment has been raised. In many industries, foreign direct investment to extent of 100 per cent was allowed.

REDUCTION IN TARIFFS :- To render Indian economy beneficial internationally, customs duties and tariffs imposed on importers and exporters are being reduced gradually.
EXPORT PROMOTIONS :- Several measures have been taken to meet the deficit to balance of payments.Exports have been promoted.